Ayurveda Experience at Olympia Riviera Resort
"The Mantra for health & happiness"

We welcome you to a journey of self-realization…
A whole new dimension of Spa opens up as we learn to touch and communicate with you in a manner that honors your uniqueness and body type. The spa-experience then becomes a context where your true nature can blossom and unfold. Inevitably, this is what each one of us seeks.
Our wide range of luxurious face and body treatments are customize product selection and treatment for your body nature. Ayurveda is a science dealing not only with treatment of some diseases but is a complete way of life.

This system of science stress on the prevention of body ailments in addition to curing them. This tradition of natural healing system has been a part of culture and daily life in India since the Indus valley civilization (BC. 3000). It is the most natural way to refresh you, eliminate all toxic imbalances from the body, and regain resistance and good health.

Ayurveda is based on the universal principles and is a living, growing body of knowledge, which promotes positive health, natural beauty and long life. It concentrates on the mental, physical and also spiritual harmony of an individual creature as a whole and also of the universe. This is the only system, which removes the ailment from the root cause.
We offer something more than just a good treatment…
We present a journey of self-discovery…
Book Online
or Call
+30 26230 64400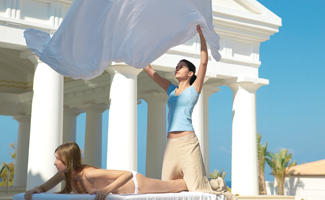 Combine your booking with Spa therapies!
Book your room and spa therapy online & enjoy
the "
Passion Ritual
", "
Marine Ritual
", "
Age Defend
" & "
Oligo Skin Protect
" treatments. Contact our Elixir Thalassotherapy Center at +30 26230 64400 or email: reservations.oa@grecotel.com
The discount is valid for advance purchase bookings.
---
♥
Love Potion
An absolutely sensual ritual for two to tantalize & delight!Share an unforgettable experience with your partner.
READ MORE
---
Must Try
Elixir of Life
:
Restoring body energy, balancing body aura, revitalizing & improving skin firmness.
READ MORE
---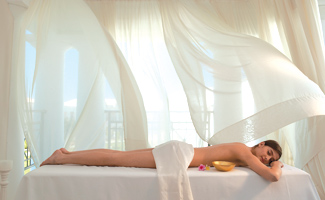 Thalassotherapy
Aqua Elixir Thalasso Round, Hydromassage, Sauna & Hammam. Pamper yourself with this relaxing package of treatments in a customized sequence that features water cannons, jet-streamed water massage, and bubble seats for an effective combination of full-body relaxation and help with problem areas. Improved skin tone and circulation are just two of the rejuvenating effects of thalassotherapy.
---