Grecotel Olympia Riviera Special Therapies
Signature Treatments...
SPECIAL CAVIAR THERAPY, 90'/135€
The extract of caviar is the secret ingredient in this ultra-nourishing, deep moisturising body treatment that tones and firms the skin, leaving it smooth and radiant. Nutrient-rich caviar has a cell format similar to human skin so that the vitamins and minerals are easily absorbed, enhancing cell regeneration.


BODY HARMONY THERAPY, 1 HOUR & 20΄/150€
A complete body and face treatment for harmony and relaxation, to combat stress and archive balance. Starting with a body exfoliation with a wonderful combination of Fine Marine Mineral Crystals and a Semi-precious Balm to make the skin smooth and velvety while relaxing body and mind. A special body wrap follows with a smooth-textured combination of Pink Mineral Clay rich in trace elements, semi-precious Rodochrosite Balm and Precious Oils. Applied over the entire body to release accumulated tension and provide a feeling of wellbeing and absolute serenity. Scalp Massage for relaxation and effective release of tension ans stress. Moisturizing face mask to restore the skin's natural moisture level and provide a healthy growing complexion.


BODY CORRECTIVE THERAPY, 1 HOUR & 20΄/120€
Luxurious treatment for body and face which is focused in the release of toxins and local accumulated water for a fine figure. Advanced body exfoliation with a splendid combination of Fine Marine Mineral Crystals and Semi-Precious Balm that leave the skin clen, soft and smooth. A special body wrap follows with a combination of Green Clay, semi-precious Balm with Malachite extracts and Precious Oils of Grapefruit and Orange for full body application. Face musk with Clay to purify the skin and eliminate imperfections. Restores luminous color and smoothens the skin.

*Free use of sauna/hammam
Book Online
or Call
+30 26230 64400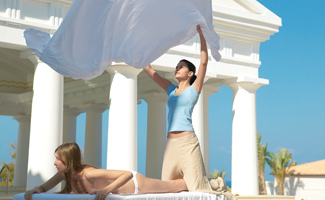 Combine your booking with Spa therapies!
Book your room online & Save up to 30% on the "Elixir of Life" & "Love Potion for 2" treatments.
Contact our Elixir Thalassotherapy Center at +30 26230 64400 or email: reservations.oa@grecotel.com
---
Monoi Tiki Oil
MONOI's moisturizing properties mean it helps to soothe the skin and protect it naturally from damage from the sun and the sea. It is the miracle product responsible for the legendary hair of the Tahitian women. Due to its relaxing properties, Monoi TIKI is ideal for relaxing massages.
---
Don't Miss...
♥
Ayurvedic Treatments for Children
READ MORE
---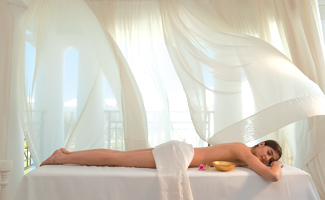 Must Try
Elixir of Life
:
Restoring body energy, balancing body aura, revitalizing & improving skin firmness
.
---
♥
Love Potion
An absolutely sensual ritual for two to tantalize & delight! Share an unforgettable experience with your partner.
READ MORE
---
also check
Grecotel Olympia Riviera For Two ♥