Kids at Olympia Oasis, Family All-Inclusive Hotel, Peloponnese
Kids ♥ Olympia Oasis
Family holidays at Olympia Oasis all-inclusive beach resort are all about kids enjoying themselves and parents being able to relax.
When you're a kid, having fun is our job!
Olympia Oasis occupies 10 km of Greece's longest sandy beach – perfect for watersports, swimming and beach games with unspoiled nature and thick, golden sand, ideal for building sandcastles.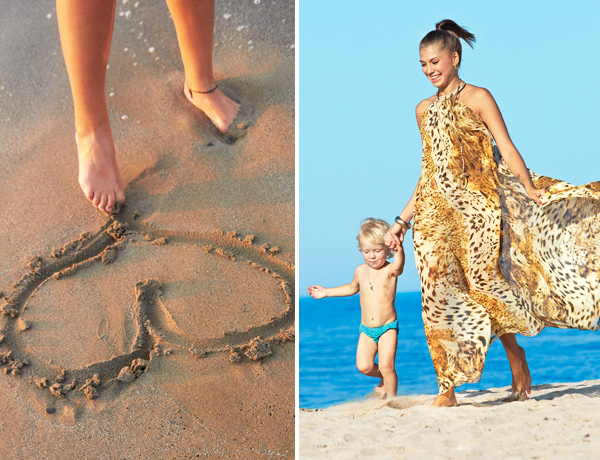 Family Living.
Spacious Family Rooms or extravagant village-style Family Bungalows enhances the family holiday concept in Peloponnese.
READ MORE
Kids' Club ♥

The Kids' Club creates a magical holiday experience for children aged 3-12 years. Children at Olympia Oasis enjoy a dedicated holiday programme so that adults can relax. You'll find: children's adventure playgrounds and villages, toys and facilities made from environmentally safe materials, qualified personnel, creative activities with fun and games, teenager programme with the emphasis on sports, shows for children and teenagers.
♥ Entertainment programme from 10.00 to 12.30 and from 15.00 to 18.00
♥ Supervision in 3 age groups (3 to 6, 7 to 9 and 10 to 12 years old)
♥ Adventure games, Fun & Action for Kids
♥ Family Disco
♥ Once per week: Children show
♥ Once per week: "Parents-free day" with children supervision from 8.00 to 20.30

♥ Games for the very young (0 to 2 years old), with parents: 6 times per week
♥ Special activities for teens (13 to 16 years old): during high season
♥ Children under 3 are welcome to the Grecoland facilities, but must be supervised at all times by a parent or guardian.



Grecobaby 0-3 yrs



The solution to travelling with babies & tots! GrecoBaby has equipment including:
FREE cots; high chairs; trainer steps; baby phones (with limited range), bottle warmer; buggies.

Small charge: Potties; changing mats; training seats; baby bathtubs; bouncy chairs.




Requests for GrecoBaby equipment should be made directly to the hotel prior to arrival.





Click here

to download the Grecobaby order form.





Kids Dining





Mealtimes are a delight, too – special children's menus, home-made treats and early seating options are just some of the ways we try to make sure that even the smallest members of the family get the most out of their holiday.





Baby Food





The resort stocks international brands of baby food. Our staff is happy to lend a hand with warming baby bottles or baby food.



Junior Facilities

• GrecoBaby Equipment for 0‐3 years for rent or free of charge (see below).
• TUI Best Family Club (with TUI staff) 3‐12 Years. Supervision for a few hours morning/afternoon
• Multilingual activities (Greek, German, English, Russian)
• Children's dinner (when Club staff is available)
• Child‐friendly Blue Flag beach
• Paddling & children's pools
• Waterslides
• Playground
• Spacious lawns & gardens
• Family accommodation
• Baby-sitting in guestroom
• Infant food (to order in restaurants or at the hotel shops)
• High chairs in all restaurants
• Shows & disco for all the Family
• Paediatrician (doctor) on call with charge
• Hotel stores have a range of baby products, such as: Nappies, baby wipes and baby powder, sun care, toys & games, infant food, beach shoes & clothes, bathroom accessories.
• Parents‐day‐off: Weekly opportunity for parents to have a romantic evening whilst kids are entertained at Grecoland
• Sports activities including volleyball, table tennis, watersports etc.
• Horse riding with charge
• Tennis (age 7 and above) structured lessons designed to develop tennis technique
• Mountain Biking with charge

Children under 3 are welcome to use the Grecoland facilities, but must be supervised at all times by a parent or guardian.
Book Online
or Call
+30 26230 64400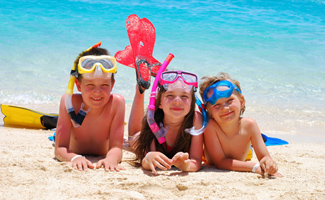 Building sandcastles is a kids favourite - 10 km child-friendly sandy beach with shallow waters awarded the Blue Flag, is a dream destination for endless fun!
---
ALL-INCLUSIVE
Kids Dining
At "The Seasons" Restaurant, from morning to evening, the special kids buffet offer a constant supply of fresh, tempting food and drinks exclusively for our little guests!
---
New 2015
Combine your summer holidays at the Grecotel Olympia Riviera Resort with learning English this summer.

READ MORE
---
N
EW 2015: Bend it like Arsenal!
It's a holiday fantasy for parents of young football fans come true: a luxurious beach resort for them and a summer soccer camp for the kids.
READ MORE
---
What Kids will Love
♥
Adventure pools with waterslides, lazy river and
waterfalls
.
♥
Burning off some energy at the adventure pool, then refueling with an ice cream or pastry nearby.
♥
Cooking in a solar oven, creating stuff from things that you may think are junk and playing games. At Kids Adventure Activities your children will have fun with the sun and get back to what nature has to offer.
---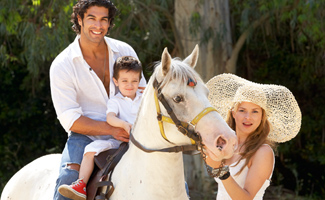 Horse Riding
Even in paradise, it's simple things in life our kids love. Ponys? Yes! Despite all the activities within the resort, for kids it's all about cute little ponys. Meet us at the resort's equestrian Stables.(extra charge)
---
4 Tennis Courts
Nestled among Olympia Riviera Resort pine forest, available for a game of tennis morning, noon or night! Tennis coaches also available at an extra charge.
For more information please contact the front desk
.
---
Sing and dance as much as you can - Children Disco at Hotel's Amphitheatre is an absolute highlight!
---
Fairytale Themed Parties make precious memories...
Balloons, games, cake & candles, music all make for a great birthday party! Everything is organized from invitations, yummy food to entertainment for a great kids' celebration.
---